Support Facilities
Hotel and employee cafeteria
West Wing, 1F, 5F, and 8-10F
Meetings, welcoming and farewell parties, etc.

The restaurant and the small to medium banquet hall on the 1st floor can be used for meetings or welcoming and farewell parties requiring dining.

Employee cafeteria

The cafeteria on the 5th floor is for employees, but can be used as a venue for welcoming and farewell parties and other parties at night.

Accommodation

The 8-10th floors are guest floors with a total of 73 rooms.
Hall
West Wing, 3F, 460 m2 (can be partitioned in two)
Large banquet hall

Can seat 250 people or 400 people for standing

Lectures, ceremonies

The hall is equipped with a sound control room and can be used for meetings that require a large screen or for international conferences that require simultaneous interpretation.
Meeting rooms, research rooms
West Wing, 7F (floor exclusively for meeting rooms and research rooms)
Meeting rooms, research rooms

There are 11 small to medium rooms that can fit a maximum of 72 people, and we have prepared research plans that come with accommodation.

Facility specifications

All rooms come with windows and have access to Wi-Fi. There is a garden at the center of the floor, providing a relaxed environment.
Shuttle Bus
A shuttle bus operates between Mizonokuchi Station and KSP.

(Note) Because the bus operates exclusively for members until 10 AM on weekdays (between 7 AM and 10 AM), membership cards (comes with a fee) are required to board.
KSP shuttle bus boarding area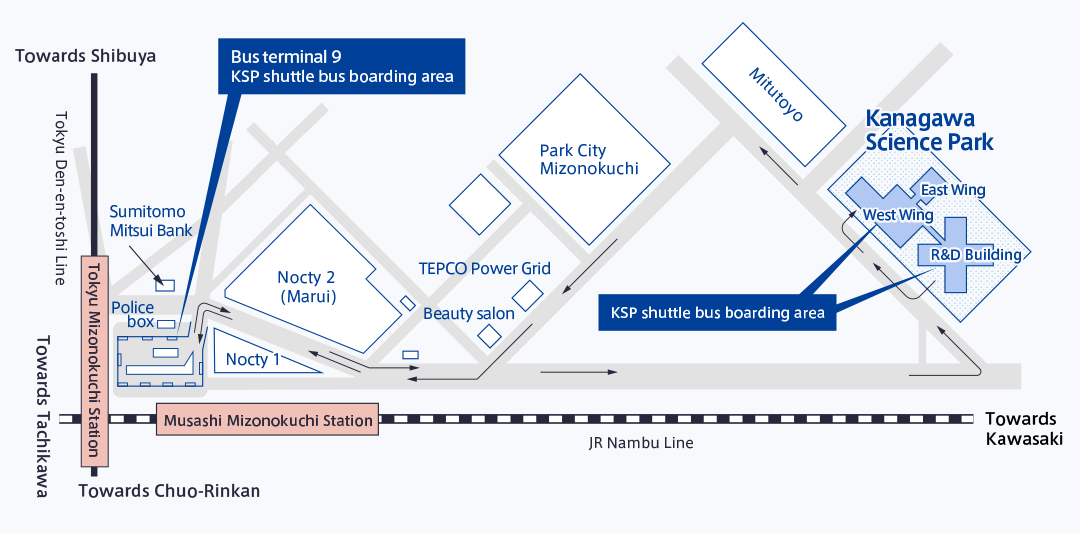 Timetable
Departing from KSP towards Mizonokuchi Station
Between 7 AM and 10 AM (grey) is exclusive to members
Departing from Mizonokuchi Station towards KSP
Between 7 AM and 10 AM (grey) is exclusive to members